Current Peterweb Creations web site is the fifth generation of what was once Peter Oberc's personal web page.
The Beginnings
First presented more than five years ago, in April 1995 as Peterweb Worldwide, this web site tried to present its author through his major interests. Many different types of information were available at that very special site, at that time still located in Slovenia, Europe in 1995 - ranging from music tribute sites to astronomy. Some portions of the site - namely Bon Jovi, REM and Queen music fan sites gained extreme popularity, (being one of only few such sites available at that time), having around 10000, 7000 and 3000 unique visitors per month.
It Lives
The original idea of Peterweb Worldwide was completely put to life in November 1996, with third generation of the site launched. Completely redesigned, with new concept and new content, the site managed not just to maintain but to increase its popularity - to up to 30000 unique visits per month. Several new sections have been added: computer games, art corner, photography, Star Trek tribute section, etc. Finally, a penpal site was added to Peterweb Worldwide, increasing its popularity drastically and starting what proved to be a new mission of Peterweb Worldwide - serving the internet community.
New Home
In January 1997, peterweb.com domain was registered and the site started to gradually move to US-based server. But this took over a year and many changes had to be made to the site. One man band could no longer maintain more that 500 pages of information, and the site was getting more than 300,000 requests per month. Bon Jovi site was updated all the time, mostly due to the fact that it was the parade horse of peterweb.com. In March 1997, one of my largest Peterweb Worldwide projects was started -PenpalsNow, the free completely automated penpal service.
New Name, Concept & Dry County
In November 1997, the first part of new site, renamed Peterweb Creations, was officially launched. Dry County, Bon Jovi Internet Fan Central offered almost everything a music fan site can offer. The gigantic site had complete hyperext based album information, with lyrics, guitar tabs, audio samples, hundreds of photos, latest news, interviews, web guide, and Internet Fan Community with Fan Directory, Trade Page, real-time album and song polls, chat room, discussion forum and more.
PenpalsNow.com
The second cornerstone of new Peterweb Creations web site was officially launched in January 1998 : PenpalsNow! Free penpal service offers many functions not available elsewhere and was awarded Starting Point Hot Site award already in its test period. The site was not significantly updated since then and our pen pal database now includes over 25,000 entries - the service is completely free and automated - it requires no mainteinance at all.
Generation 4 - Downsizing, Centralization & Going Local
The full version of fourth Peterweb Creations English site was launched in February 1998. The site was very different from the old one. Now professionally designed, the site was greatly reduced in size. Many sections were removed from the site, mostly because they were no longer needed, not popular enough or simply didn't feet into new concept of Peterweb Creations as a community service web site and its commercial and non-personal status. Slovene version of the site followed in May. Since then, my other projects made it impossible to work on the site for quite some time.
The rest of 1998 and the first half of 1999 brought no major additions to Peterweb Creations sites, but during this time a new concept for peterweb.com and my web activities was finally put together.
Generation 5 - Decentralization
As I became more and more involved in other, commercial projects, it became very clear that I have to choose which sites I want to continue work on, and which ones to discontinue. The key word for my new Peterweb Creations strategy was decentralization. All major sites, produced by Peterweb Creations had to be made completely independent in design & technical details.
In August 1999, following R.E.M. European tour, askthesky.com, my first R.E.M. fan site in years was launched. The successor of once very popular "Talk About the Passion" and "Star 69" fan sites was completely separated from peterweb.com. The site was not designed and produced as an ambitious, long-term project but as a small tribute site - all sections that can be found at other R.E.M. fan sites were removed, only my extensive REM photo gallery remained available at new site. I also kept R.E.M. fan art section and added lots of "Special Features", such as concert photos, pen pals, screenshots from TV performances,... a trade section was also added as I wanted to expand my R.E.M. collection. Yes, askthesky.com was much more personal and informal than other Peterweb Creations sites and this soon became a trend.
Not being a huge fan of Bon Jovi anymore, maintaining the most well known Bon Jovi fan site proved to be impossible. Something has to be done. I was seriously thinking about completely abandoning the site, but summer 1999 proved to be a very creative period - it was the first time in over a year that I was working on non-commercial, personal projects and I decided to get up-to-date with latest web technology trends - the result of one month work was the new Dry County Bon Jovi fan site - the site has been reduced in size, most of frequently updated sections such as news section were removed, lots of other less popular serviced were also removed, the got a new look and what is most important - this was my first database-based web site. About 90% of site's content is now stored in a database, making the site easier to run and also very scalable as new features can be added very easily. Also, for the first time ever, Dry County fan site was separated from peterweb.com, a separate domain was registered (drycounty.com)
With two major cornerstones of peterweb.com now being completely separate sites, major changes also had to be done to main Peterweb Creations site, which you are looking at right now. The site is now nothing more than a bunch of pages giving information of my Peterweb Creations projects/activities and my *formal* web site.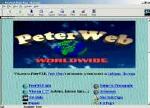 Second generation of Peterweb Worldwide, late 1995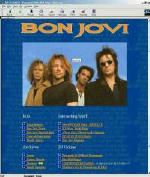 Second generation of Dry County Bon Jovi web site, late 1995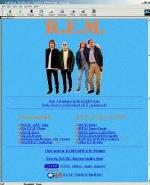 Second generation of Talk About the Passion R.E.M. fan site, late-1995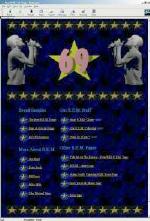 First generation of Star69 R.E.M. fan site, 1996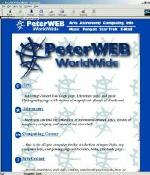 Third generation of Peterweb Worldwide, late 1996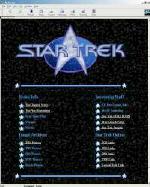 Star Trek page at
Peterweb, late 1996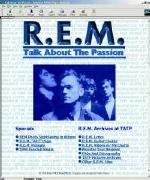 Third generation of Talk About the Passion R.E.M. fan site, late 1996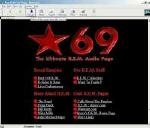 Second generation of Star69 R.E.M. fan site, early 1997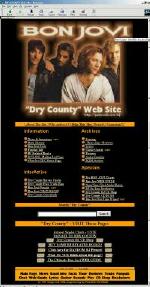 Third generation of Dry County Bon Jovi web site, early 1997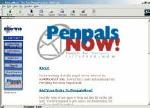 First generation of PenpalsNow, late 1997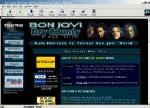 Fourth generation of Dry County Bon Jovi web site, early 1998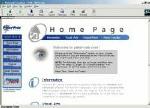 Fourth generation of Peterweb - Peterweb Creations, early 1998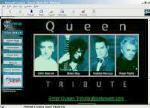 Queen Tribute at Peterweb, early 1998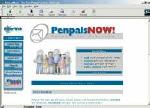 Second generation of PenpalsNow, mid 1998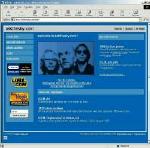 askthesky r.e.m. fan site, Q3 1999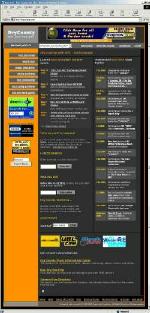 Fifth generation of Dry County Bon Jovi fan site, late 1999