News
Launch - JoviTalk 2
Date: 29 July 2002
Source: PWCR Network
New message board section of PWCR Network's largest site was launched today
Peterweb Creations successfully launched a new version of drycounty.com message board today.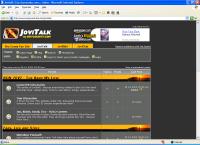 JoviTalk 2 is a second implementation of phpBB v2 bulletin board software (http://www.phpbb.com), the first one being at peugeot206club.com. This time many more changes were done to originally supplied templates, so the board now captures the look and feel of drycounty.com - Bon Jovi fan site. Several phpBB2 mods (modifications) are implemented as well.

JoviTalk 2 is the first part of 2002 version of "Dry County - Bon Jovi Fan Central" using new bonjovicentral.com domain. Redesigned site is scheduled to follow later this year.
Related URL: http://bonjovicentral.com/jovitalk/